Check out the Tuff Tap range.
HOOK TAP

Tuff Tap / Hooked Valve
As a Tuff Tap / Valve it's used as a FLUSHING valve at the end of a Drip Line.

Tuff Tap / Hooked Elbow
As a Tuff Tap / Elbow it's use is as an INCOMING elbow on the water feed end. Having the same incoming port size as the water feed pipe and the same outgoing port as your drip line, allows the line to be easily attached both ends of the row reducing line creep and makes redundant all those reducers and fittings currently being used. This Elbow can be fitted with a valve allowing it to be used as an ISOLATION valve on the incoming water end
ELBOW TAP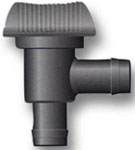 DRUM TAP

TEE TAP

STRAIGHT TAP

Use Tuff Tap valves where strong, long lasting taps are required, easily isolating sections of Drip Lines.